Okie from Muskogee: Foster knows how to build things | Lifestyles
Hundreds of people have benefited from things Joe Foster built.
"I've always been a builder, always been building things," he said.
The Arkansas native moved to the Muskogee area in 1955. 
Foster has carved wood with hand tools since he was in second grade. He's had power tools since he was 13.
When he wasn't doing woodwork, Foster was playing golf. He played golf in high school, college, even the U.S. Army, when he was stationed at Fort Jackson in Columbia, South Carolina.
Even then, Foster built things. He upgraded and ran the fort's golf course until 1971. 
After returning to Muskogee, Foster followed his father into the funeral business. He helped the Foster-Petering Funeral Home business for 40 years. 
"Our business grew substantially in the 40 years we owned it," he said.
Foster also made time to build relationships. 
"From the time I left Muskogee in 1957, I always aspired to live in Muskogee," he said. "I developed friendships I still maintain today."
He recalled joining Dr. Phil Couch on bird hunting trips in Africa and South America.
"All the hunting we've done have been birds," Foster said. "No wild animals."
Retirement has given Foster plenty of free time.
"Being around people every day is the thing I miss the most about being retired," he said. "Since I was involved in the community, out every day, conducting funerals. That's something I really miss, being around people."
He never gave up his love for golf. He said he always loved the competition. 
"The challenge of getting shots, to play better than other," he said. "I didn't always do that, but I always tried to."
And, there's always his woodwork.
"Everything I make is for utility," he said. "But I started carving a few years ago."
Foster enjoys woodworking
Joe Foster likes making things people can use, whether it's a fire place kindling bin, a cutting board or a left-handed scraping spoon. He made a rocking chair for a grandchild, as well as 87 playhouses for children and hundreds of toaster tongs for friends.
"I made things that help me hold tools," he said. 
He also creates things that people can enjoy. A scissor-tailed flycatcher carved from walnut sits on his mantel.
A 13-foot wide cross hangs in St. Paul United Methodist Church's entry. Foster also crafted several church altars.
Foster has made items out of walnut, olive and sturdy bois d'arc.
His backyard wood shop brims with other projects. Foster is carving a bowl, using a gouge while the bowl spins on a lathe.
He keeps his tools handy and tidy in a wall-mounted box he made. He has places for saws, chisels and planes of varied widths. He has a place for a rounded blade called a scorper. 
"This is what I would use to hollow out the seat in a chair," he said. 
"Woodworking affords the opportunity to touch," he said. "You thought of making it, you make it, then you touch it, you see it. It's a feeling that gives self-worth."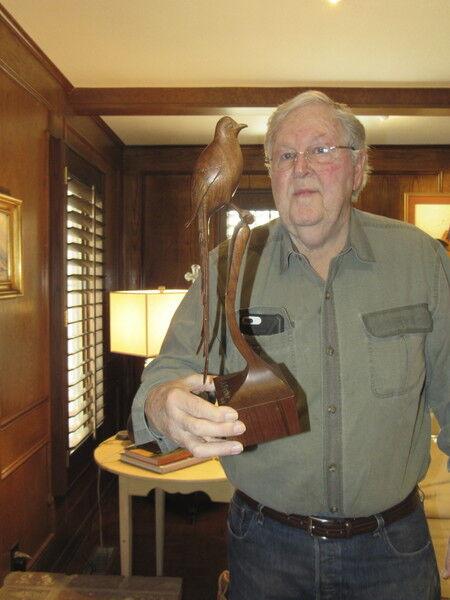 Golf knowledge put to the test 
Foster developed his golf skills as part of a State Championship team at Okmulgee High School. He then earned a scholarship to play on the Oklahoma State University golf team.
"OSU has been a perennial favorite in NCAA golf," he said.
Even in the Army, Foster used his skills to "resurrect" and operate a golf course at Fort Jackson.
"I worked for two generals — the post commander and the deputy commander — and they were both golfers," Foster said. "They entrusted me with their golf course, which was kind of run down, and I rejuvenated the golf course. One of the orders from day one was to establish a golf team that played in all-service tournaments, Navy, Air Force, Marines."
The course had been run by officers with no golf course experience, he said. 
Under Foster's leadership, the base consolidated purchase of equipment, fertilizer and chemicals and set up a co-op with surrounding courses.
"The skills I had learned at OSU were employed, and we drastically improved the golf course," he said. "We didn't move any holes, but we improved the T-boxes, the greens and the approach to the greens, the sand traps. We planted thousands of trees on the golf course."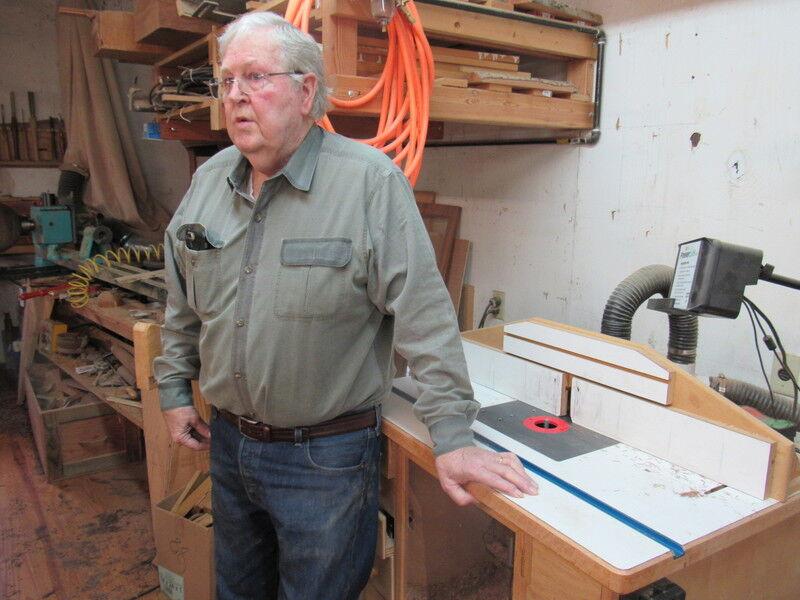 Compassion for grieving families 
Foster recalls working in all areas of the funeral business.
"I arranged funerals. I did all the preparation of bodies. Cosmetics, I did ladies' hair," he said. "I did everything that needed to be done."
Foster said he learned how to be sensitive to grieving families without getting too emotionally involved. He recalled going to people's homes after a loved one died in the middle of the night.
"We always saw families at their worst," he said. "They were always emotionally upset. It's important for us to have things organized and to perform our services to help them. That's what we're there for."
He said he also updated a building that had been around since the turn of the 20th century.
"That building was built originally as a residence for a fuel oil company president," Foster said. "Then the funeral home started in 1919." 
Still, Foster said he enjoyed all aspects of the job.
"It was grueling sometimes, to be up all night, and you have to get up and go to work the next morning," he said. "But it was very satisfying to help people do something they knew needed to be done, but that they couldn't do for themselves."
HOW DID YOU COME TO BE AN OKIE FROM MUSKOGEE? 
"My dad was in the funeral business and he bought the Petering Funeral Home. He and my brother, we were partners. We operated the funeral home until 2008." 
WHAT DO YOU LIKE BEST ABOUT MUSKOGEE?
"The diversity of people here and the friendliness of the people here. The city of Muskogee has been very good to our family." 
WHAT WOULD MAKE MUSKOGEE A BETTER PLACE TO LIVE?
"More involvement in the schools. If other people, when they came into Muskogee, would see that we have a class A school system, and that our city government was run along the same lines." 
WHAT PERSON IN MUSKOGEE DO YOU ADMIRE MOST?
"Jim Coburn and Dr. Phil Couch. Jim Coburn and I got to be friends when I was in college. If I needed something, he'd be right there. If I needed something, he'd be right there. He is a very thoughtful, very intelligent person. I admired his business acumen. Dr. Couch is my hunting buddy." 
WHAT IS THE MOST MEMORABLE THING TO HAPPEN TO YOU IN MUSKOGEE?
"I was involved with YMCA years ago, when YMCA went broke, I undertook the task of getting the Red Cross to return the building to the City of Muskogee, and they made a sports center out of it. It was a seven-year project. I went to lots and lots of meetings. Of course, the most exciting thing has been the birth of our children."
WHAT DO YOU DO IN YOUR SPARE TIME?
"Swim. I do it for exercise. I do lots of woodwork."
HOW WOULD YOU SUM UP MUSKOGEE IN 25 WORDS OR LESS?
"Offers a person the opportunity to establish a business and friendships and church home."