Generations Early Learning & Family Center Builds Bridges Across Age Groups
With so much of our population busy making a living and raising families, the question often arises: What's the best way to care for both the youngest and the oldest among us? Bellingham's Generations Early Learning & Family Center has hit on a wonderful solution: bring them together, and allow them to teach each other.
Generations Executive Director
Heidi Bugbee came to Bellingham to study child development at Western, and then
met her husband and started a family along the way. She's worked in early
learning since 1988, and is happy to tell us how Generations originally came to
be—and what it looks like now.
Bugbee says that Jim Hall, founder
of the original St. Francis of Bellingham nursing home, came across his
business model naturally. "His family
had been in the nursing home business, so he'd been raised in that sort of
environment. He gained a lot of real positives from that experience, and
wanted to provide that for his kids," she says. "St.
Francis was called the first intergenerational program in the nation. I don't
know if it truly was, but it was in People Magazine, and on Good Morning
America and 60 Minutes, so it was a really innovative idea in 1984."
The
St. Francis Foundation was born when Hall sold his business to a company that
owns several nursing homes, which told him that the childcare would need to be
separate from the retirement community. "Then, six years ago, a company out of
Oregon took over, and wanted to use that space for rehabilitation, or a clinic.
We tried to stay because that was our home, and those were our residents, and
we had seen the magic that was created through the program there," says Bugbee.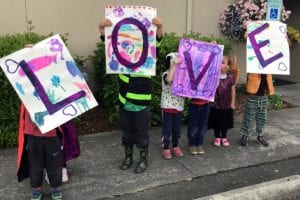 The
move was unavoidable, but they knew they had something too good to give up, and
set about securing a future for themselves. "We had 60 families enrolled at the
time and we didn't want to lose this program that was so special to everybody,
so I went to work knocking on doors and talking at Rotaries and going to every
assisted living and nursing home," Bugbee says. "I came upon Andy and Jim Clay,
who own some nursing homes and had a space in their basement at Mt. Baker Care Center and Summit
Place Assisted Living. They said, 'We've always wanted children in the
building; you can use the space.'"
Things at this point in the
story suddenly got a bit more stressful than anyone expected. "We had to be out
of the building at St. Francis at 5 p.m. on a Friday; on the Tuesday before, we
didn't know whether we could move into our new space. We had it inspected on
Wednesday, and they can take six weeks to approve you," Bugbee says. "The Fire
Marshal came on Thursday, we got our license approved on Friday, and we got to
open the doors on Monday."
They seem to be in an ideal
location, in the lower level of the buildings that house Mt. Baker Care Center
and Summit Place, which offer both assisted living and long-term care to older
community members. "They have different kinds of residents who have different
levels of participation," Bugbee says. "It's part of their recreation therapy,
and for us it's the heart and soul of our program."
Their partnership provides fun
and learning for the youngsters, as well as an improved quality of life for the
people who live upstairs from them, whom they refer to as 'grandfriends.'
"During a non-COVID time, the
kids and the residents would get together twice a day, and then we would also
have special events and parties on days like Cinco de Mayo, Easter, Halloween
and Christmas," says Bugbee. "COVID has really impacted us, but on St.
Patrick's Day the kids all dressed up and made signs and we did a little parade
around the building. We went to each window and said, 'We love you, and we miss
our grandfriends.'"
The two businesses develop
specific programs that benefit both age groups. "With our babies, there might
just be music playing, or balloons to play with. With older kids, we can do
gardening and cooking and science experiments," says Bugbee. "We try to find
things that help our grandfriends feel like they're contributing. I think a lot
of the residents upstairs have been helpers in our communities, and they're
used to giving; having that purpose is really powerful for their health and
wellbeing."
"I
have to say that's the magic of bringing the two populations together. You
might see a resident sleeping in their chair, because it's quiet and there's
not a lot going on. Then the kids walk in and you see them physically perk up and
get that smile and get those wide eyes," Bugbee says. "And after the kids have
been there, they're all up and perky and talking—it's just so powerful. It's
hard to measure, but it's very, very real."